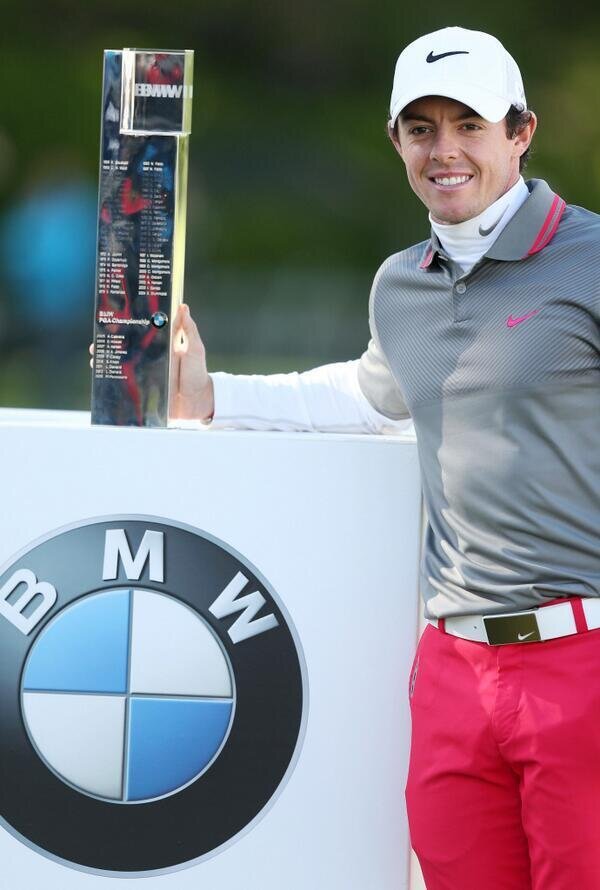 What a difference a week makes.
Last Wednesday, most of the golf world was wrapped up in the
break up of "Wozzilroy
." At a press conference just before the European Tour's BMW PGA Championship this past weekend, Rory McIlroy told the gathered press that he had no thoughts of withdrawing from the Euro circuit's flagship event:
"I made a commitment to be here. It's the European Tour's flagship event. I'm very proud to be part of the European Tour. The European Tour have been very good to me over the last number of years and I thought it was my duty to come back and play in this event. Once I gave my word that I would, I wasn't going to go back on it."
Good thing he stayed at Wentworth, because on Sunday, McIlroy roared back from seven shots down to fire a closing-round 66 and win the BMW PGA Championship.
"It's been 18 months since I won on The European Tour and to win the flagship event, I could not have asked for any more.

"I knew coming in here I was playing well. I struggled a little on Friday, but played great over the weekend. I was a little fortunate that some of the guys ahead of me made mistakes and I took advantage of it.

"My caddie JP (Fitzgerald) set me the target of 15-under today. I didn't quite get there but 14-under was enough. I really wanted to win before going into the second major of the season (the U.S. Open) and I could not have asked for a better way to prepare.

"It's been a great day. Going out seven behind I did not really expect to be in this position.

"Thomas (Bjørn) was playing very well and I thought I would need something really spectacular to catch him but walking off the 11th tee, I saw I was only two behind and thought I had a chance."
And this stands as proof that what some people think is luck is actually better described as hard work meeting an opportunity. In so doing, McIlroy overtook Bjørn, Irishman Shane Lowry, and Englishman Luke Donald.
Bjørn and Donald both suffered triple-bogey at the sixth hole, opening the door for McIlroy and Lowry to make a charge. Lowry suffered a double-bogey at the 13th, but managed to finish solo-second — not bad for a guy with just two wins on the Euro Tour.
"I feel very unlucky. I know I hit a poor tee shot (on 13) but found myself in probably the only bush like that on the course and was struggling from there. But to hole the birdie putt on the last and to finish second on my own is really nice."
Most of the speculative chatter about the U.S. Open at Pinehurst has centered around Phil Mickelson and whether or not he can finally win the championship for the first time. But with Rory McIlroy already having a decent 2014 season, aided by a victory at the 2013 Australian Open in December, perhaps we need to strongly consider the possibility that the Northern Irishman stands every bit as good a chance to win as "Lefty."
Read more
Read an interesting golf story? Tip Your Editor!
Image via Twitter, BMW PGA Championship
no comments posted yet.