Mickelson Can Win "Maybe Two" U.S. Opens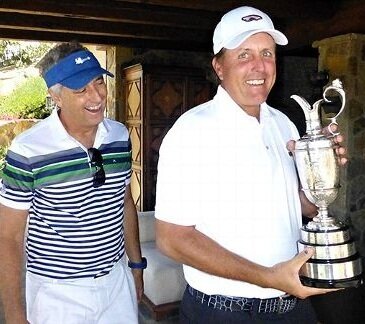 Phil Mickelson's golf game has gotten better with time. And even despite a record
six
second-place finishes at the U.S. Open, Mickelson is supremely confident that he can bag an Open — perhaps even two of them:
"The next five years are going to be the best of my career.

"...I'm going to win a bunch of tournaments. I'm going to win at least one U.S. Open, maybe two. And I'm going to make the 2016 Olympic team. And really, I'd love to make the 2020 Olympic team. I'd be 50. How cool would that be?"
In between his humorous descriptions of Mickelson's tremendously charmed life, one of the other subjects was Mickelson's health:
"No, I feel great. I can't remember the last time I felt this good. It doesn't even feel like I've got the arthritis. And because of my diet, I've reduced my meds to one-third of what I had at first. I've lost 20-plus pounds.

"My body isn't beat up like a lot of guys. My swing isn't like Tiger's, or Jason Day's, Dustin Johnson's, even Hunter Mahan's. I don't have a really fast golf swing that has a lot of viciousness, a lot of fierceness, where the torque and power that's released is hard on the knees, the back. My swing is big and long and has a wide, wide arc. That doesn't put any pressure on my body... I'm like a kicker in the NFL. I'm not beat up. I can keep playing at a high level for a long time."
The entire column / interview is worth a look.
Read more
Read an interesting golf story? Tip Your Editor!
Image via Amy Mickelson
no comments posted yet.