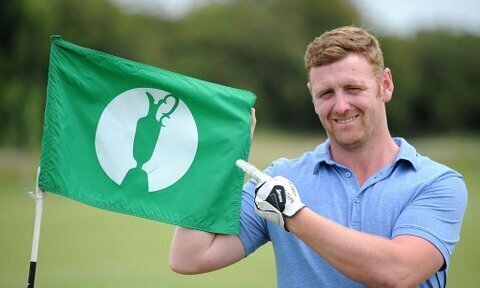 John Singleton is a 30-year-old forklift driver employed by a resin manufacturing company in Birkenhead, England — about a ten-minute drive from
Royal Liverpool Golf Club
.
I'm just a production person on a shop floor. I start at 8 a.m. and finish at 4:30 p.m. I make batches of thick resin and I made five batches of it last week. It's three-and-a-half tons per batch. It's a resin that goes over wires and it's used for waterproofing. I was just lucky to get the job. I've worked there for over a year."
Like a lot of guys, he is a serious golf enthusiast who once harbored dreams of playing professionally. These days, after clocking off work, he spends time at
Eastham Lodge Golf Club
for some practice.
Also like most guys, there is a woman in his life — in this case, a pregnant fiancee named Lucy. Amazingly, this lady persuaded him to pay the £140 entry fee and try to qualify for the 2014 Open Championship. (
Why can't the rest of us guys find a woman like that?
)
The problem was that Singleton's two wedges were in dreadful shape — so he borrowed a couple from a friend of his. So, there he was, one of 76 professional and amateur golfers vying for just three spots in the Open available in a qualifier at
Hillside Golf Club
. He was competing with the likes of established European Tour pros Graeme Storm and Richard Finch, as well as last year's U.S. Amateur champion and newly-minted professional, Matt Fitzpatrick.
But it was Singleton, borrowed clubs and all, who shot the lowest score of the 36-hole qualifier, then emerged successfully from a playoff. Instead of being a volunteer marshall, the forklift driver will play in golf's oldest championship at Royal Liverpool — just nine days from now.
Singleton told
Daily Mail
sportswriter Derek Lawrenson about the reaction from his friends at work:
"We just looked at each other and burst out laughing at the craziness of it all. It's every golfer's dream to play in The Open and now it's happening to me on my doorstep. It's a bit overwhelming, to be honest.

"I will find out if I can have two weeks off work, so that I can play in The Open. I hope I'm given it."
If Singleton makes the cut, how long will it be before a golf club manufacturing company convinces him to relinquish his amateur status, take an endorsement deal, and capitalize on his good fortune?
read more
Read an interesting golf article? Tip Your Editor!
Image via Facebook
Evell1988 says:
I want to congratulate John Singleton for qualifying for the championship match and I hope he will give his best to win that match. So now you can get
reviews on papersowl
for that students who are doing good work. I am impressed to read about the career of John Singleton, I request him to keep playing games to entertain people. Thank you for such a great article.
9/21/19
davidjohn0 says:
I was not really aware of this platform and I completely had no clue about it at all. So, I happen to know about it from a friend about the
se.altosignpdffree.com
and went to see it for myself. Honestly, it was too good that it made my work ten times alot easier and convenient at the same time.
2/29/20
Munna123 says:
Get the free codes of roblox game free of cost.
free robux generator
And play the roblox game this is one of the famous online game.
4/2/20
Ashukhan says:
This is my first time visit here. From the tons of comments on your articles,I guess I am not only one having all the enjoyment right here!
www.digitekprinting.com/canvas-prints-2
6/25/20
ahmedraza1001 says:
I exploit solely premium quality products -- you will observe these individuals on:
LeptoConnect Review
6/28/20
ahmedraza1001 says:
This is very interesting content! I have thoroughly enjoyed reading your points and have come to the conclusion that you are right about many of them. You are great.
LeptoConnect
6/28/20
ahmedraza1001 says:
You should mainly superior together with well-performing material, which means that see it:
Resurge
6/28/20
ahmedraza1001 says:
On my website you'll see similar texts, write what you think.
Resurge Supplement
6/28/20
ahmedraza1001 says:
I read this article. I think You put a lot of effort to create this article. I appreciate your work.
Leptitox
6/28/20