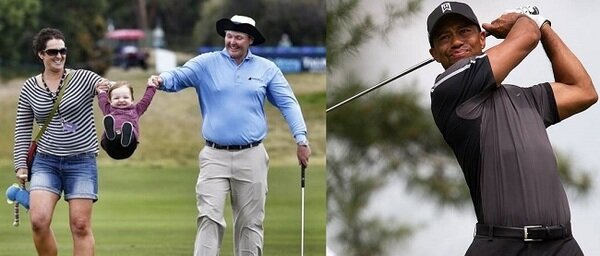 Tiger Woods and Jarrod Lyle are two of the more compelling stories on the PGA Tour these days. Both are trying to get back to where they have been before, although interesting wrinkles have developed for both as they play their respective ways through the 2014 season.
Australian golfer Jarrod Lyle is making his return to professional golf and the PGA Tour. Perhaps not surprisingly, he is having to work his way back
through the Web.com tour
. But he isn't complaining about that:
"There's plenty of worse things that can happen than shooting 80 at a golf tournament or shooting 79 or missing a cut. There was times where I thought I was dead and thought I'd never get back out on the golf course, and there was times where I thought I don't want to play golf anymore.

"(So) if I make a triple bogey on a par four or whatever ... it's better than having a day's worth of chemo."
The PGA Tour has told Lyle that he needs to earn $283,000 in the next 20 events in order to retain his Tour card. So, Lyle and his wife and daughter will travel the midwestern U.S. in a recreational vehicle, playing in
Kansas City
, Springfield, and Knoxville.
"I won't know how my body is going to hold up until I actually get out there and start playing golf. I've targeted these three events for the fact that they're three tournaments that are relatively close together, so traveling to them is not going to be too big of an issue."
Meanwhile, Tiger Woods is trying to earn a place on the 2014 U.S. Ryder Cup team — and according to
some reporters
, Tiger can do this only if he plays well in his next three events: The Open Championship at Royal Liverpool, the WGC-Bridgestone Invitational, and the PGA Championship.
Analysis suggests that, because he is currently ranked 209th in the FedExCup standings, he needs strong performances at these upcoming events in order to get into the top 125 and qualify for the playoffs. Even if Woods misses the top 125, Ryder Cup captain Tom Watson might decide that this is a strong enough performance to select him for the team as a captain's pick.
Woods has been the subject of some controversy surrounding his efforts to play through the injury that required microdiscectomy surgery earlier this year. But now,
Golf Digest
contributor Sam Weinman reports that Woods' choice of medical providers may stir up even more controversy.
According to Weinman
, Canadian doctor Anthony Galea visited Woods
14 times
at his Florida home between January and August of 2009.
Galea has been linked to disgraced baseball star Alex Rodriguez, performance-enhancing drugs, and human growth hormone. Both Galea and Woods insist that the treatments involved only platelet-rich plasma injections. And Woods' former coach, Hank Haney, has been quoted as saying he is unsure of specific treatment Galea gave Woods, but said he did not notice anything unlawful.
According to Weinman, the PGA Tour declined to comment for his story.
Tiger Woods has become a less sympathetic character in the eyes of more than a few golf fans since he was caught cheating on his then-wife, Elin. So when Woods has won in recent years, his wins have been impressive, but have involved far less heart-string-tugging.
In stark contrast, very few (if any) golf fans are cheering against Jarrod Lyle. The Aussie has not been nearly as successful on the golf course as has Woods, but whenever he scores his next victory — regardless of whether it's a Web.com Tour or PGA Tour win — we predict that the party and celebration will be far larger.
Read an interesting golf article? Tip Your Editor!
no comments posted yet.