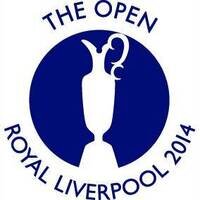 Dagger?
Rory McIlroy dodged both severe weather and a sudden threat from Rickie Fowler on Saturday during the third round of the 143rd Open Championship. And the result is becoming eerily reminiscent of his runaway victory at the 2011 U.S. Open.
Following a 66 on Friday, McIlroy started with a bogey at the first hole for the second consecutive day. While he got it back with a birdie at 5, he was treading water — while American Rickie Fowler surged into contention. The former Oklahoma State University star reeled off birdies on four of the first six holes. Following a bogey and two pars, Fowler nailed birdies at 10, 11, and 12 to momentarily tie for the lead, while McIlroy suffered a bogey at the 12th.
But then, the tide shifted. Fowler suffered a bogey at 14, then at 16, he drove into a bunker and barely escaped. When an eight-foot par-saver wouldn't fall, Fowler had another bogey on his card. Fowler then bogeyed 17, but righted the ship somewhat with a birdie at the closing hole. Still, he walked into the clubhouse with a 68, putting him at -10 for the championship.
The problem for Rickie is that McIlroy found a second wind at 14th hole, with a birdie. And then the Irishman struck an eye-popping blow with an eagle at the 16th. He stumbled at 17 with a bogey, but at the closing hole, McIlroy showed who is boss at Royal Liverpool:
"As soon it left the club, I knew it was all over it. Obviously, that's a nice way to finish. It gives me a good cushion going into tomorrow.""
A "good" cushion??!!
With that eagle, "Rors" wrapped up a Saturday 68 that got him to -16 for the championship —
six shots clear
of Fowler (69-69-68) and seven ahead of Sergio García (68-70-69) and Dustin Johnson (71-65-71). The impressive young Frenchman Victor Dubuisson is alone at -8, while Edoardo Molinari (-7) leads Matteo Manassero (-6) for the title of "Low Italian." McIlroy stands ten clear of a gaggle of golfers that includes previous major champions Adam Scott, Jim Furyk, and Charl Schwartzel, as well as Sweden's Robert Karlsson.
Stormy weather ♪♫
Facing the threat of severe thunderstorms in the Liverpool region, The R&A did what few politicians do these days: They took precautions.
Specifically, they took the unusual step of going to earlier tee-times and a two-tee start, which is unprecedented for a post-cut round at The Open Championship. Thankfully, the storms did not occur while the third round was played, although a light rain did soften the greens a bit.
A Tiger's tale
Tiger Woods shot an impressive 69 on Thursday, but stumbled badly on Friday with a double-bogey at the 1st, a bogey at the 2nd, and a triple-bogey at the 17th. He birdied the 18th on Friday to make the cut at +3. But on Saturday, Woods's problems continued. He made five birdies, but gave them back with another double-bogey at 2 and another triple at the 7th. Woods is competing in only his second tournament since back surgery on March 31, but he knows he missed some great chances:
"I made a lot of mistakes. On top of that, I missed a lot of shots for opportunities for birdies."

"I'm starting to get the flow of the round, the flow of playing again. But you just can't run up high scores like that and expect to contend especially when the conditions are this benign. Most of the scores are three-under-par or better today and I certainly didn't do that."
Sunday's weather

Clouds and showers will dominate the skies over Liverpool in the morning, but will gradually give way to sunshine, with temperatures in the mid-to-upper 60s Fahrenheit.
Sunday's forecast
Would any of you like to bet against Rory hoisting the Claret Jug on Sunday?
Sunday tee-times
Read an interesting golf article? Tip Your Editor!
Image via Twitter, The Open Championship
nehasharma70571 says:
This post is clear and easy to get a handle on. I'm adjusting all the more concerning this. Wish you pass on more things related to it. a debt of gratitude is in order for sharing this brilliant post.
www.dwarkaescortgirls.com/delhi-call-girl.html
7/24/19
nehasharma70571 says:
This is an awesome driving article. I am fundamentally content with your amazing work. You put a truly amazingly consistent article.
www.callgirlsinkarolbagh.com
7/24/19