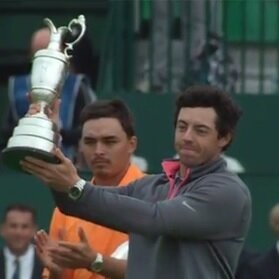 In winning his first two major championships,
Rory McIlroy
enjoyed eight-shot margins of victory. Not so at the 143rd Open Championship — even though the "
Holywood
Matinee Idol" led, wire to wire.
On Sunday, entering the final round with a six-shot lead, McIlroy's journey to victory contained all three of the classic literary conflicts:
Man versus man
Rickie Fowler
and
Sergio García
gave fine accounts of themselves this week. Fowler continues to play awfully well in the majors; following a T-5 at the Masters in April, he played in the final group on Sunday at a major for the second consecutive time. After rounds of 69-69-68, Fowler played bogey-free golf and shot a five-under 67. The California native had trouble gaining ground for awhile with a string of pars at 11 through 14. At 15, Fowler's awfully fast birdie putt was fortunate to go in, which he followed up with another bird at 16. A disappointing par at 17 took some of the pressure of McIlroy, although Fowler finished in style with a birdie at 18.
Fowler earned himself a nice "consolation prize," if you will: A guaranteed spot on the 2014 U.S. Ryder Cup team in September.
Sergio García did not turn in the lowest round of the day; American
Jim Furyk
, Australian
Marc Leishman
, Irishman
Shane Lowry
, and Englishman
Chris Wood
delivered Sunday 65s, to their considerable credit. However, García's 66 was the most exciting round of the runners-up. García ramped up the pressure with three birdies on the opening nine, then crushed an eagle at 10.
Holes 11 through 14 were difficult on all the leaders, although García nearly holed a birdie from off the green. But at the par-3 15th, García dumped his tee-shot in a green-side pot bunker — and got a little too cute trying to escape, by taking a bit too much sand; the ball never sailed above the top of the sod wall. He did well to save bogey.
It was then that Sergio became "Surge-io"; García absolutely crushed his tee-shot at 16. The 335-yard blast split the fairway, and the Spaniard capitalized with a birdie. After a disappointing par at 17, García closed with a birdie to end on a high note.
García may not have won that elusive first major championship, but he may well have sewn up a spot at the Ryder cup in September. If García ultimately does not qualify on a points basis, captain
Paul McGinley
wouold be hard-pressed to not choose García as a wildcard selection. His -15 performance, which included all four rounds in the 60s, was both strong and consistent — and unworthy of criticism.
Man versus Nature
The seaside winds at Royal Liverpool played havoc with the field at various times, as did the course. For example, at 15, both McIlroy and García landed their tee-shots short of the green.
Man versus himself
McIlroy canned birdies at 1, 9, and 10, but suffered bogeys at the par-5 5th and the par-3 6th holes, then had more trouble at the par-3 13th. But instead of thoughts of self-doubt and nerves, McIlroy focused on two words that he later explained to the gathered press: Process and spot.
"With my long shots, I just wanted to stick to my process and stick to making good decisions, making good swings. The process of making a good swing, if I had any sort of little swing thoughts, just keeping that so I wasn't thinking about the end result, basically.

"I was just picking a spot on the green and trying to roll it over my spot. I wasn't thinking about holing it. I wasn't thinking about what it would mean or how many further clear it would get me. I just wanted to roll that ball over that spot. If that went in, then great. If it didn't, then I'd try it the next hole."
"Honor your father and mother..."
Finally, McIlroy enjoyed the special pleasure of having both of his parents with him at Royal Liverpool; his mother missed the 2011 U.S. Open and the 2012 PGA Championship. And afterward, he acknowledged how grateful he was:
"I was trying not to cry at the time because she was bawling her eyes out. The support of my parents has been incredible — even growing up and doing everything, the sacrifices they made for me. Even to this day, they're the two people in this world that I can talk to about anything. I couldn't ask to have two better parents. They're there for me at the worst of times, like this time last year after missing the cut. Or the best of times, walking off as the champion golfer of the year.

"I can't speak highly enough of my parents. They're the best people in the world."
McIlroy has now become only the third golfer to win three legs of the men's career Grand Slam by age 25. The other two loom large in golf history: Jack Nicklaus and Tiger Woods.
Final leaderboard
Read an interesting golf article? Tip Your Editor!
Image via YouTube, The Open Championship
no comments posted yet.