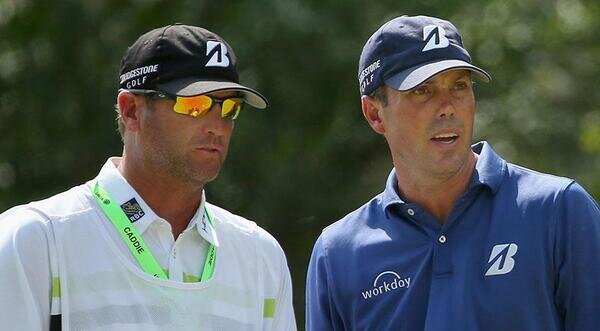 Lance Bennett (left), caddies for Matt Kuchar, ranked 4th on the OWGR
Our prayers and heartfelt sympathy go to Lance Bennett, Matt Kuchar's caddie, and his four-year-old daughter, Emma Grace Bennett, along with their immediate and extended family. Bennett's wife Angela died very unexpectedly on Wednesday.
Angela Bennett reportedly had epilepsy, for which medical treatments are far more prevalent and effective than, say, 30 years ago. But Lance had flown home to Texas on Tuesday after his wife had suffered what was evidently a very serious seizure.
Among those who have gone to Texas to help the family are fellow PGA Tour caddies James Edmondson (Ryan Palmer) and Jon Yarbrough (Scott Stallings). Undoubtedly with Bennett's blessing, Kuchar is remaining in Boston for this weekend's PGA Tour playoff event, with Brian Reed substituting for Bennett. Kuchar released the following statement through his management firm, Excel Sports:
Sybi [Kuchar's wife], the boys and I are sending our thoughts and prayers to Lance and Emma Grace during this devastating time. Angela was a cherished friend, a wonderful wife and a loving mother who made a major impact on all who were lucky enough to know her, and she will be greatly missed."
After this very unwelcome news, social media came alive with tweets from across the world of golf. Below are just a few of the posts:
Read more
Read an interesting golf article? Tip Your Editor!
Image via Twitter
sunnyyadav0390 says:
So the thanks for the all night the play
jumblesolver.online/
or the more comment the person.
1/6/18
douglasswain says:
This is very serious disease. I think there is a need to better communicate the risks that accompany epilepsy.
write my essay in 12 hours
service.
1/16/18
EnriqueGreenfelder says:
My deep condolence to Lance and his family. I have read the news about this at
australian-writings.org
. This is really so sad to heard this news.
1/16/18
TatianaWarren says:
I regularly feel sensitivity for the individuals who so urgently need to give control over their universe to a dedicated mammoth undetectable companion. It's so urgently dismal and frantically human. I likewise feel frustrated about them, that they've been sold the lie of their own essential shortcoming, so they can't adapt without the medication of their divinity.
essay writing
. I kinda consider it in those terms - they've been sold a divinity medication, and they stick to it like any obvious fanatic, as a method for overcoming.
1/25/18
rosesandra says:
My profound sympathy to Lance and his family. I have perused the news about this at
custom essay help
. This is extremely so miserable to heard this news.
5/29/18
annashetty says:
I just added your blog to my bookmark sites. thanks.Quality posts is the crucial to invite the visitors to visit the web page, that's what this web page is providing.
combat reloaded
6/8/18