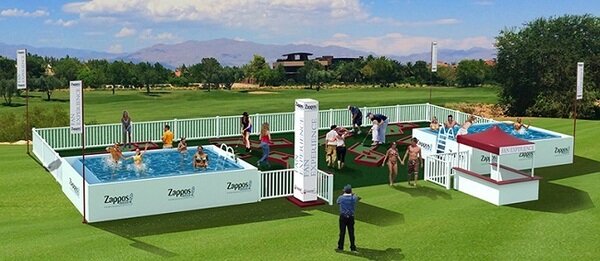 We know that Las Vegas is a place where "trendiness" is vitally important. But now organizers of the PGA Tour's
Shriners Hospitals for Children Open
are embracing at least some of the over-the-top kitsch for which Las Vegas is
notorious
well-known.
This year's event (October 13-19) will include an area called the
Zappos Fan Experience
, to include six swimming pools (with lifeguards and security personnel) and a 9-hole miniature golf course. The six pools will be spread between the 16th, 17th, and 18th holes at
TPC Summerlin
. The attraction is designed to be family-friendly, while embracing a concept known as the "day club experience."
Most people have heard of night clubs, but some of us work for a living and don't go to bars and strip clubs, gamble what little money we actually have, spend our lives partying, or "marvel" at the horrendously ridiculous music-and-water fountain show at Bellagio. Your humble correspondent had never even
heard
of the concept of a "day club" until this very morning. Therefore, a little research was necessary.
This led me to an article by Susan Breslow Sardone, who has apparently made a career out of being
About Travel
's "Honeymoons/Romantic Travel Expert":
"Although the day club concept may not have originated in Las Vegas, the city certainly has refined and elaborated upon the idea of creating a pool party atmosphere that combines sun, cabanas, loud music, booze, and revelers around shallow swimming pools wearing as little as possible.

"As with a nightclub, day club attendees must be a certain age to be admitted and proof is required as alcohol is served on the premises. Typically there is a cover charge. DJs keep the music loud and current and dealers keep the games going and the chips circulating."
Apparently, one example of this in Las Vegas is the Marquee Dayclub: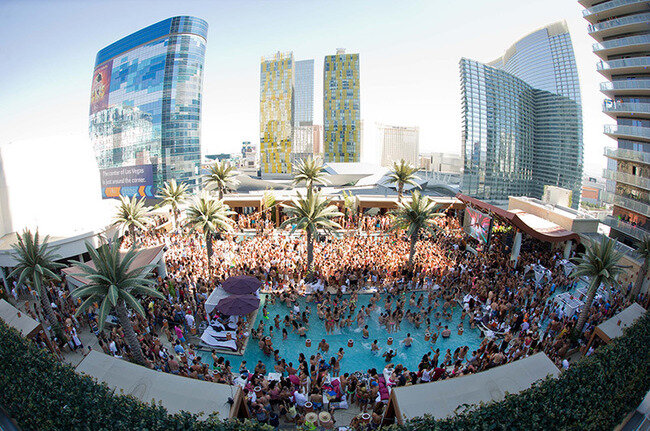 Ohhh... kaaay. Loud music, alcohol, swimming pools, over-the-top kitsch, an anything-goes party-hardy atmosphere, and gambling. What could possibly go wrong?
No wonder Las Vegas is called "sin city."
At any rate, the (
take a deep breath
) Shriners Hospitals for Children Open's "day club" concept of swimming pools and mini-golf is apparently not going to disrupt the tournament. This seems appropriate since we're talking about a professional golf tournament — one that benefits hospitals for children.
Read more
Read an interesting golf article? Tip Your Editor!
Image via Shriners Hospitals for Children Open