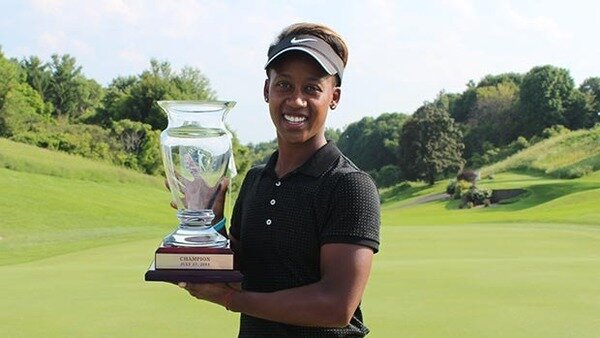 For men, the Web.com Tour is the primary pathway to the PGA Tour. For women, the equivalent is the Symetra Tour. On Sunday, Tour organizers announced the list of ten women who secured LPGA Tour cards for 2015 — six Americans are in the mix, as are five rookies.
But the highest-profile graduate may be Sadena Parks (
above
), who
won the SEFCU Championship
in July. Two weeks later, she shot a Sunday 67 and then defeated fellow
Big Break
alum Jackie Stoelting in a playoff to
win the New England Charity Classic
.
And while
the content of one's character
should outweigh the shade of one's skin, Parks' victory is notable because she became only the second woman of African ancestry to win on the LPGA's AAA-level circuit, following LaRee Sugg in 1998 at a FUTURES Tour event in Wisconsin. And she hopes to use this to help get more girls interested in golf; she had these comments following her breakthrough victory at the SEFCU:
"The steps that I am taking helps to influence younger African-American kids, girls and boys, and even parents that have younger kids that want them to be more involved in this game. Kind of how Tiger Woods changed golf, I want to be the next African-American out there on the LPGA Tour. I want to be ranked number one on the LPGA Tour one day."
Parks becomes the fifth black woman to play on the LPGA Tour, joining Sugg, Shasta Averyhardt, and two very important pioneers: Renee Powell, who played for over a decade on tour and won one edition of the Kelly Springfield Open in Australia, and the late and legendary Althea Gibson, who is most notable as a tennis player. Gibson was the first non-white woman to win a major championship in tennis when she won the 1956 French Open. Then in 1957 and 1958, she won both Wimbledon and the U.S. Open — a total of five major championships in just three years.
In total, Parks (an alum of the University of Washington) had five top-ten finishes and ranked fourth in birdies on the Symetra Tour in 2014. Further proof that Sadena's victory was not a fluke is that she finished second at the Island Resort Championship three weeks before her maiden victory.
Just last week, Beth Ann Nichols of
Golfweek
wrote
this fun profile of Parks
, a self-described "goofball."
But with her two Symetra Tour victories this year and a record of successive improvement, we are certain that Parks will not be goofing around on the course next year. It is obvious that Parks has enough experience and talent to win on the big-league circuit.
Read more
Read an interesting golf article? Tip Your Editor!
Image via Symetra Tour
no comments posted yet.