2014 Ryder Cup: Friday Morning Four-balls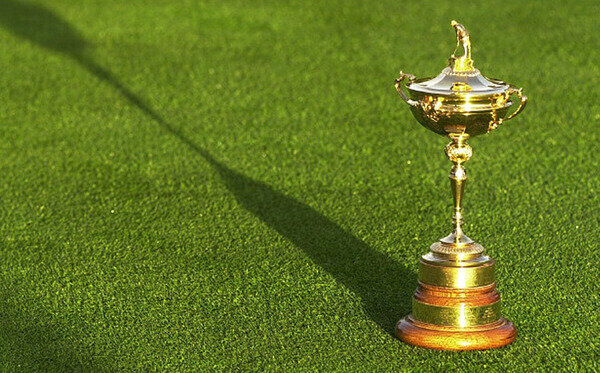 Before the anchor match of the Friday morning fourballs even concluded, the afternoon foursomes (alternate shot) teed off! That is how long and dramatic the battle was between Rory McIlroy and Sergio García, and the American duo of Phil Mickelson and Keegan Bradley.
Friday Morning Fourball Results

a.k.a. "best ball"

Match #

1

Bubba Watson
Webb Simpson
5 & 4

Justin Rose
Henrik Stenson

Based on their respective records, Rose and Stenson were at a decided advantage — and they proved it in the open match of the 2014 Ryder Cup. Simpson was so nervous that he popped up his tee-shot, barely long enough to reach the fairway. That gave the Europeans a psychological advantage:

"We got off to a good start and we managed to steal a few birdies when we could," said Rose. "For us to get off to this sort of start is tremendous."

Indeed, the dynamic duo jumped to a 1-up lead with a birdie by Stenson at the 2nd, then Rose boosted the lead with a birdie at the par-3 4th. Even when Rose was stung by a wasp on the 9th fairway, Stenson birdied the par-5 to give them a 3-up lead. Rose came back to close out Watson and Simpson with a birdie at the par-4 14th.

2

Rickie Fowler
Jimmy Walker
Thomas Bjørn
Martin Kaymer
The two-time major champion Kaymer and the veteran Bjørn exploded out of the gate with birdies at the 1st, 2nd, and 4th holes. But Fowler immediately took one hole back by rolling in a birdie at the par-4 5th hole. And then Walker stunned the Europeans by holing out from a green-side bunker for an eagle at the 9th to get back to 1-down. birdied the par-4 14th, but Kaymer let it slip away at 17 and 18. Walker turned in another heroic episode by holing for birdie from off the green at 16, then canned a five-foot birdie at the last to take a half-point.

At Fowler and Walker's request, U.S. captain Tom Watson paired them together. They rewarded Watson with a half-point Friday morning and another pairing in the Friday afternoon foursomes.

3

Jordan Spieth
Patrick Reed
5 & 4
Stephen Gallacher
Ian Poulter
On Thursday, your humble correspondent predicted that, because this was an early match, Spieth and Reed would overcome their underdog roles to surprise the energetic veteran Poulter and Gallacher, who lives not far from Gleneagles and has played here often. Boy, did they ever.

Spieth gave the U.S. a 1-up lead with a par at the 1st hole to Poulter's bogey. Meanwhile, Gallacher was virtually a non-factor, aside from halving the 2nd hole. Reed notched birdies with a long bomb at the 6th, then two more at the 9th and 11th, while Spieth got birds at 7 and 10. With that, the Americans were 6-up after 11. Gallacher managed only to take back one hole with a par at 12. Two holes later, the match was over and Spieth and Reed were early heroes — the youngest U.S. pairing ever in Ryder Cup history.

4

Keegan Bradley
Phil Mickelson

1-up
Sergio García
Rory McIlroy
The marquee match of the morning did not disappoint — but it ran almost five-and-a-half-hours. Indeed, the opening afternoon matches were already underway by the time this one wrapped up!

Sergio García lit the fireworks at the 4th with a long bunker shot (seemingly from the next county) that landed and released, then dove into the jar for a 1-up lead. Bradley's par-saver at the 7th brought it back to all-square. Mickelson and Bradley birdied 9 and 10 respectively to go two-up, but García saved par at 11, then McIlroy outdid Bradley at 13. Mickelson blew a short par putt at 15, giving the Euros another 1-up lead.

Bradley then hit what NBC's Dan Hicks called "the shot of the day," lashing a utility club from out of deep rough to just a few feet under the flagstick. When his eagle putt found the cup, the Americans were all-square.

Then at the worst possible time for Europe, García's iron-play let him down at 17 and (horrifically) at 18. Bradley had an excellent chance to win at 18 with a seven-footer, but shockingly missed. At 1:46 p.m. BST, Mickelson finally ended it with a three-footer for birdie.

This match will undoubtedly be on the highlight video.




2½




1½
Read an interesting golf article? Tip your editor!
Image via PGA of America
[ comments ]
no comments posted yet.
[ post comment ]
Most Popular:

Subscribe