2014 Ryder Cup: A Wale(s) of a Finish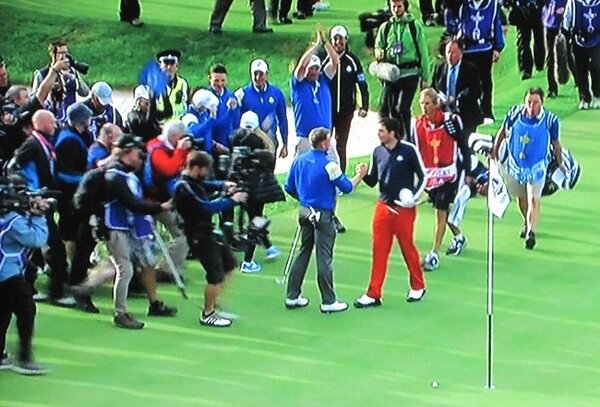 After winning all but one of eight points in the Friday and Saturday afternoon foursomes, Team Europe held a 10-6 lead in the 2014 Ryder Cup. Just four more points out of a possible 12 in the Sunday singles matches would secure the Ryder Cup for another two years. Their American opponents would need a near-miraculous 8½ out of those 12 points to win back the Cup — and to win it on foreign soil for the first time since 1993, when Tom Watson was also the U.S. captain.
In the end, 38-year-old Jamie Donaldson from Pontypridd, Wales made a "Wale" of an approach shot at the 15th hole to seal the doom of Team USA.
Sunday singles results

in chronological order of finish to win

Match #

19

Rickie Fowler
5 & 4
Rory McIlroy
Fowler and McIlroy had already stared each other down to halves on Friday afternoon and Saturday morning. And even though Fowler and Saturday afternoon partner Jimmy Walker were exhausted by Saturday evening, this match was still anticipated to be compelling.

But it was McIlroy who put the first flag on the scoreboards for Europe after just one hole, when he sank a birdie after Fowler stubbed a chip from the back of the green. At the 2nd, Fowler conceded an eagle that put Rory 2-up. At the 3rd, Fowler missed a par-saving putt, while McIlroy lagged and got a 3-up lead. Two more birdies at 5 and 6 put McIlroy 5-up after just six holes at 1:07 p.m. BST. (That's what you get from the world's number-one golfer!)

A par by Fowler put McIlroy back to 4-down, but Fowler's first birdie of the day merely halved the 9th hole. McIlroy birdied 13 to put himself back to 5-up, then pitched to sneeze-in distance at 14. And when Fowler couldn't sink a putt from 12 feet, McIlroy had a 5 & 4 victory and was 2-1-2 for the weekend. Despite fine performances this weekend, Fowler is now 0-3-5 overall in Ryder Cup competition.

Europe 11, U.S. 6 at 2:54 p.m. BST (9:54 a.m. EDT)

17

Jordan Spieth
2 & 1
Graeme McDowell
Nobody should doubt that 21-year-old Texan Jordan Spieth has a bright future in golf; he has already won on the PGA Tour, and after two days of Ryder Cup competition, he came into this match 2-0-1. A birdie at the 2nd and two bogeys by McDowell gave Spieth a 3-up lead after the 5th hole, one that lasted through the turn at the 9th.

But it slipped away with a bogey at the 10th, a G-Mac birdie at the 11th, and two more bogeys from Spieth at the 12th and 13th. In the space of four holes, Spieth went from 3-up to 1-down. At the 15th, McDowell's approach tagged the flagstick, leading to a birdie and a 2-up lead. At 16, Spieth left a birdie attempt short, then a mis-club at 17 left him 53 feet from a birdie he could not sink.

Europe 12, U.S. 6 at 3:17 p.m. BST (10:17 a.m. EDT)

18

Patrick Reed
1-up
Henrik Stenson
The world's fifth-ranked male golfer, Stenson was 3-0-0 coming into Sunday's matches, but the rookie Reed was an equally impressive 2-0-1. But at the 2nd hole, the young American pitched through and over the green to give Stenson a 1-up lead. But Reed kept up his aggressive attitude, halving the next three holes, then capturing the 6th with a birdie to square the affair. When he matched birdies with Stenson at the 7th, Reed was shown on NBC's coverage "shushing" the mostly-European crowd in a raw display of confidence. More fist-pumps ensued when he birdied the 8th to go 1-up.

But at the 9th, Reed lost his tee-shot into the left rough, then dumped his second into the water. The shouting and fist-pumping were back when he birdied 11 and 12 to go back 2-up. Following a bogey at 13, disaster struck for Reed at 15 when his tee-shot disappeared into the gorse and was never found. All-square.

At the closing hole, Stenson's aggressive approach from 225 yards slid into the collection area to the right of the green. From 217 yards out, Reed hit the green, leaving about 12 feet for an eagle. Stenson did well to pitch to four feet, while Reed's eagle putt missed the left edge. But stunningly, Stenson could not convert the birdie putt to halve the match.

Europe 12, U.S. 7 at 3:40 p.m. BST (10:40 a.m. EDT)

22

Bubba Watson
4 & 2
Martin Kaymer
Apparently hoping that noise would help him, Bubba Watson asked for cheers from the grandstands during his opening tee-shot, with which he split the fairway at 12:37 p.m. BST. But then, the big German (the reigning U.S. Open champion) outdrove Bubba by at least five yards! After tying birdies at the first, they both parred the par-5 second.

But Watson's proverbial goose was cooked when he couldn't save par at the 3rd and 4th holes. Kaymer proceeded to birdie 5 and 6, boosting him to 4-up. At the 14th, Kaymer hit behind a gorse bush that teammate Justin Rose found minutes earlier, but hit a magnificent recovery to just eight feet. Bubba's approach landed inside Kaymer's, but he couldn't sink a birdie putt, leaving him dormie — 4-down with four to play. Bubba got one back at 15 with a birdie, leaving him 3-down with three to play.

But at 16, after hitting his approach into the left rough, Kaymer holed his pitch, suddenly ending the match and Bubba's day, setting off an enormous European celebration.

Europe 13, U.S. 7 at 3:48 p.m. BST (10:48 a.m. EDT)

21

Phil Mickelson
3 & 1
Stephen Gallacher
U.S. captain Tom Watson fielded dozens of questions about leaving Mickelson on the bench all of Saturday, and some people may have been "piling on" in their minds when Gallacher sank a long birdie putt at the par-5 2nd to go 1-up. But Mickelson drained a 15-footer for birdie and never gave Gallacher a lead again. After gaining and losing a 2-up lead, Mickelson birdied the 15th to go 1-up.

At the 16th green, Mickelson made a most unusual gesture, conceding a four-footer to Gallacher. But then, "Lefty" sank his own three-footer for birdie to go 2-up. Another birdie at 17 finished off the rookie from Scotland.

Europe 13, U.S. 8 at 3:52 p.m. BST (10:52 a.m. EDT)

23

Matt Kuchar
4 & 3
Thomas Bjørn
Kuchar dominated the Great Dane from the 2nd hole forward, even after a 3rd-hole bogey that squared the match. With a Bjørn bogey at the 5th, Kuchar retook the lead and never looked back.

Europe 13, U.S. 9 at 3:53 p.m. BST (10:53 a.m. EDT)

20

Hunter Mahan
Justin Rose
The 2013 U.S. Open champion, Rose had already delivered big for Europe this weekend, going 3-0-1. But at the first hole on Sunday, even after hitting an admirable bunker shot, Rose went 1-down after Mahan one-hopped his approach shot stiff. An excellent lag putt by Mahan put Rose 2-down. Two more Mahan birdies put Rose 4-down after six holes.

But the Englishman violently shifted the momentum his way with four straight birdies, including on a seven-foot putt at the 10th and a beautiful approach to sneeze-in distance at the 11th, to square the match.

A fascinating back-and-forth struggle made the rest of this match absolutely compelling television. Rose bogeyed the 12th to give Mahan a 1-up lead — and then Rose found a gorse bush off the 13th fairway. But after Mahan missed the green, Rose then stuck his highlight-video approach shot to just 14 inches. Mahan conceded the birdie, which squared the match, but then re-took a 1-up lead with a birdie at 14.

At the 18th, Mahan hit his approach into the collection area right of the green, but still had a good chance for birdie. After putting his tee-shot into the right rough, Rose did well to leave his second short and left of the green on the apron. With his third, Rose pitched to just four feet, turning up the pressure on Mahan, who was facing an enormously difficult flop-pitch from a draw lie behind the tilted fringe.

Stunningly, Mahan blew his shot over the flag and off the opposite side of the green, after which he pitched to six feet. Mahan then lipped out his par-saver, losing the hole and halving the match. With that, Team Europe were only a half-point away from 14, the number they needed to retain the Ryder Cup.

Europe 13½, U.S. 9½ at 3:55 p.m. BST (10:55 a.m. EDT)

26

Keegan Bradley
4 & 3
Jamie Donaldson
Like Phil Mickelson, Keegan Bradley was benched on Saturday by U.S. captain Tom Watson after going 1-1 on Friday. On Sunday, Bradley matched four pars and halves with Donaldson, but then lipped out his par-saver at the 5th to give the Welshman a 1-up lead that he never relinquished. After trading wins at the 7th and 8th, Donaldson took control with a birdie at 9 to a Bradley bogey. He wedged close to win the 11th and go 3-up, then sank a birdie at 12 to go 4-up. Bradley was fortunate to sink a par-saver at 13 to stay alive, 4-down with five to play.

At the 278-yard par-4 14th, spectators stampeded to watch as Bradley needed to win the hole to keep Donaldson from going dormie. At 4:13 p.m. BST, Donaldson hit his tee-shot over the green and into a collection area. Bradley swept a high cut over the green into the left rough, but gained a decent lie. But then, he pitched across and through the green. Donaldson putted from the collection area, leaving him seven feet from a birdie.

At 4:22 p.m. BST and putting from the right fringe, Bradley left his birdie attempt 12 feet short. Matching pars halved the hole, putting Donaldson dormie on Bradley — 4-up with four to play. Curiously, the Europeans did not begin celebrating, even though the Europeans were, at that moment, guaranteed to keep the Ryder Cup.

At the par-4 15th, Donaldson split the fairway, but Bradley dumped his tee-shot into deep rough left of the fairway. With 153 yards to the flagstick, Bradley did well to carve an approach shot to 25 feet above and left of the hole.

But then in the climactic moment of the week and from 147 yards away, Donaldson pulled a short-iron and stuck his approach to just ten inches — setting off a massive explosion of applause and cheering. Just seconds later, Bradley and U.S. captain Watson conceded the birdie, the halve of the hole, and the Ryder Cup. The 38-year-old Ryder Cup rookie is now a certified sports hero in Europe.

Europe 14½, U.S. 9½ at 4:31 p.m. BST (11:31 a.m. EDT)




11½




16½
Final individual results

Keegan Bradley
1-2-0
0-2-1
Thomas Bjørn
Rickie Fowler
0-2-3
3-1-0
Jamie Donaldson (R)
Jim Furyk
1-3-0
2-0-1
Victor Dubuissson (R)
Zach Johnson
0-2-1
0-2-0
Stephen Gallacher (R)
Matt Kuchar
1-3-0
2-1-1
Sergio García
Hunter Mahan
1-2-1
1-1-2
Martin Kaymer
Phil Mickelson
2-1-0
3-0-0
Graeme McDowell
(R) Patrick Reed
3-0-1
2-1-2
Rory McIlroy
Webb Simpson
0-1-1
0-1-2
Ian Poulter
(R) Jordan Spieth
2-1-1
3-0-2
Justin Rose
(R) Jimmy Walker
1-1-3
3-1-0
Henrik Stenson
Bubba Watson
0-3-0
2-2-0
Lee Westwood
Once upon a time, the young Welshman Jamie Donaldson was told by a doctor that if he wanted to fully recover from a back injury and avoid further damage, he should stop playing golf. Instead, Donaldson persevered — and with one magnificent approach shot, he wrote for himself a proud and admirable chapter in Ryder Cup history.
But even before today's singles matches got underway, this writer opined that the Americans' poor performance in the Friday and Saturday afternoon foursomes doomed them beyond any realistic chance of recovery. U.S. captain Tom Watson admitted as much in his first interview with NBC after the Cup had been decided.

The Ryder Cup does not have a Conn Smythe Trophy equivalent or other formal recognition for a "most valuable player." But even as much as Jamie Donaldson and Victor Dubuisson were absolutely essential to Team Europe's victory, we must designate Graeme McDowell and Justin Rose as the deserving co-recipients of a proverbial MVP award in the 2014 Ryder Cup.
Rose overcame a wasp-sting at the 9th on Friday morning to slam the door on Bubba Watson and Webb Simpson, 5 & 4, then took down Hunter Mahan and Zach Johnson in their Friday afternoon foursome. On Saturday morning, Rose drained a 25-foot snake for a birdie at the 5th and another one at the 8th to square his match. Rose's putter was white-hot at 13 and 16 to shoot down Bubba Watson and Matt Kuchar. Then in the afternoon, Rose's six-footer won the 18th hole and salvaged a half-point from an exhausted Jordan Spieth and Patrick Reed.
On Sunday, Rose was 4-down after six holes, but roared back and mercilessly cut down Mahan with four straight birdies to square their match. His magnificent recovery from a gorse bush at the 13th was a thing of beauty, then he captured a half-point when Mahan came apart at the 18th hole. Rose was arguably the hottest putter of the entire competition.
G-Mac stared down Keegan Bradley and Phil Mickelson on Friday afternoon and convincingly took down Rickie Fowler and Jimmy Walker on Saturday afternoon — helping to produce two of Europe's seven foursome points. On Sunday, McDowell roared back from 3-down to Spieth, then darkened Spieth's hopes by hitting the flagstick at the 15th.
In the end, the best team won — not just by playing better golf, but by capitalizing in the Friday and Saturday afternoon foursomes... and by not complaining and moaning when a few things did not go according to plan.
All of this will ratchet up the pressure even more when Team Europe and the Americans meet in two years' time at Hazeltine National in Chaska, Minnesota.
Read an interesting golf article? Tip your editor!
Photo-captures by Torleif Sorenson
[ comments ]
Hardwork23 says:
If you need to
play hearts free online
games so you may make use of this portal which is all safe and secure to play these games in the best quality at different amazing levels. Try out for once.
1/30/19
carolinebaji95 says:
We really appreciate the kind of topics you post here and best work you have done, keep it up.
sump pump
8/3/19
[ post comment ]
Most Popular:

Subscribe