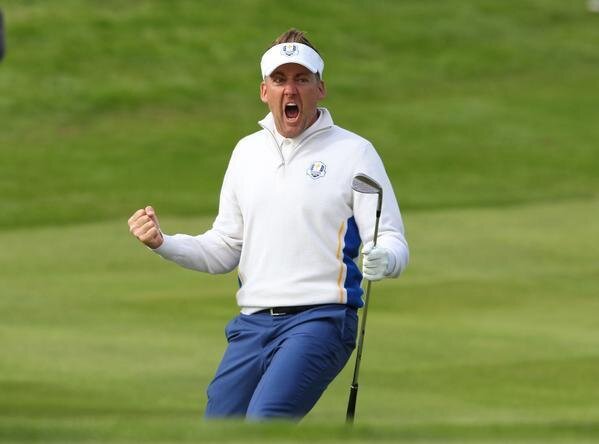 Behold, a digital donnybrook between PGA of America chief Ted Bishop and the one and only Ian Poulter, with Sir Nick Faldo finding himself in the crossfire. And because it was on the Internet, somebody screen-capped the war of words for posterity.
This all started on Friday morning, September 26 at the 2014 Ryder Cup at Gleneagles, when Sergio García and Rory McIlroy lost their four-ball match to Keegan Bradley and Phil Mickelson, but came back in the afternoon to halve their foursomes match against Jimmy Walker and Rickie Fowler.
At one point, when García missed a fairway with his tee-shot, former Team Europe captain Nick Faldo, commenting live on television, described Sergio García as "useless" and saddled with a "bad attitude" during the 2008 Ryder Cup, when Team Europe lost to the Americans and García went 0-2-2.
On Friday this year, García went 0-1-1 — and after those two matches were over, he was told of Faldo's on-air dressing-down. The Spanish Ryder Cup veteran responded with admirable restraint:
"That's unfortunate," he said with a laugh. "I guess he doesn't feel European. That's the only thing I can think of. You know, there's a lot of things I could say about Nick Faldo, but I'm not going to put myself down to his level."
For the record, Faldo later apologized and backtracked via Twitter:
Fast-forward to this week; on Thursday, Poulter's autobiography
No Limits
hit the shelves of bookstores, as well as Kindle and Nook devices. Following the Ryder Cup last month, Poulter either did not get word of Faldo's apology to García, or heard about it and ignored it, anyway. Whatever the actual case, Poulter added a late chapter to his book in which
he excoriated the six-time major champion
for his on-air comments:
"Sergio puts a brave face on it but the rest of the guys are fuming. I'm shocked that he has said it. It's highly disrespectful. It's a cheap shot and it's the worst possible timing.

"It makes me laugh. Faldo is talking about someone being useless at the 2008 Ryder Cup. That's the Ryder Cup where he was captain. That's the Ryder Cup where the Europe team suffered a heavy defeat.

"And he was captain. So who's useless? Faldo might need to have a little look in the mirror. I have always got on great with Faldo in the past and I have a great deal of respect for everything he has achieved but this feels like sour grapes. It feels like a guy who is still bitter that he lost in 2008.

"Faldo has lost a lot of respect from players because of what he said. There were plenty of things a lot of the players were unhappy with at Valhalla but none of us criticised him. He may find that begins to change now."
Some people have already taken Poulter to task over what he wrote:
But Justin's comment (above) is quite tame compared to comments by PGA of America president Ted Bishop. Poulter's comments evidently touched a sore nerve with the outgoing PGA chief, who felt compelled to
insert himself into the fray
. What is surprising is that Bishop let fly with some rather salty comments toward Poulter that are quite unprofessional for someone of his stature: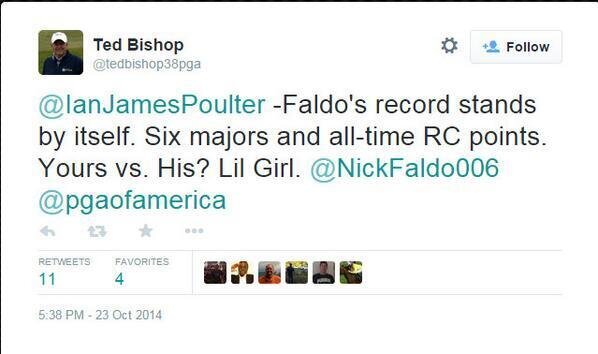 Sometime later on Thursday, Bishop deleted those posts — but among those who screen-captured Bishop's cracks for posterity was Ryan Ballengee of Yahoo! Sports. And in case Bishop did not happen to get an earful from his own staff, Ballengee made sure that Bishop knew he had been caught red-handed:
On Thursday evening, the AP's senior golf writer Doug Ferguson
reported
that Bishop e-mailed this non-apology:
"Obviously I could have selected some different ways to express my thoughts on Poulter's remarks. Golf had always been a sport where respect was shown to its icons. That seems to have gone by the wayside."
On a serious note, Ted Bishop — as president of a major golf organization — should have known better than to let fly with such a sexist and degrading remark. For his part, Bishop stands firmly behind Faldo, which is not surprising since he is assisting Faldo at his annual "Faldo Series" junior golf instructional event and tournament:
For Ian Poulter, who seems not to be as wise and educated as he should be, his brash comments represent a youthful and undisciplined blunder that we hope he will be smart enough to not repeat. While we appreciate Poulter's edgy and occasionally witty online banter, he needs to understand that elusive boundary between a gentle jab at someone and pouring gasoline on the fire.
To close on a lighter note, if those guys continue to type all those nasty things online, we may have to wash their hands out with soap.
Have you seen an interesting golf story? Tell us about it!
Image via Twitter