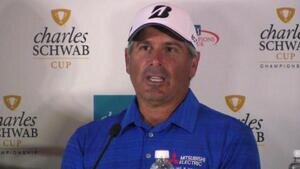 Count Fred Couples among those
still questioning
Tom Watson's benching of Phil Mickelson at the 2014 Ryder Cup:
"I'm not bashing Tom Watson, but sitting Mickelson, your best team player? Are you kidding me?"
Couples was asked about the Ryder Cup after giving a clinic for kids on Thursday at a new 6-hole golf course in Maricopa, Arizona.
Last month, Couples has also described the special 11-member Ryder Cup Task Force as "a little much." Whether this affects his chances of becoming the captain of the 2016 U.S. Ryder Cup team is not yet determined, but Couples played in five Ryder Cups, winning twice in 1991 and 1993, and tying in 1989.
Couples captained the U.S. Presidents Cup team three times, winning each time in 2009, 2011, and 2013.
Have you seen an interesting golf story? Tell us about it!
Image via Twitter
Tileebhe says:
Clubs of the system is implemented for the successive moves for the humans. The change of the society and
the best essay writing company
is marked for the official stances for the humans.
3/31/19
isabelladom247 says:
SkyGolf is my favorite game that is why I choose to visit your site
www.toursofwashingtondc.com
. This site is passing some details about the new news about the game. The details are giving a best information about what is happening in the field of the game.
4/12/19
soqux@getnada.com says:
One of the most frustrating things imaginable to businesses who utilize
do merchant service providers
do is when they are faced with paying a higher percentage rate on their credit card machine use than was advertised or promised.
6/22/19
photoshoponline88@gmail.com says:
Maybe it will be better, I need to find out and need more information
driving directions
2/25/20
simpsonjoshua says:
Very good article forum. I will continue to monitor the article. Here you can consult my article and give comments. Thanks
bubble shooter
3/7/20
cikkujikki says:
if you want services related to photography in all over uk then contact us
photography services in birmingham
photography services in london
3/22/20