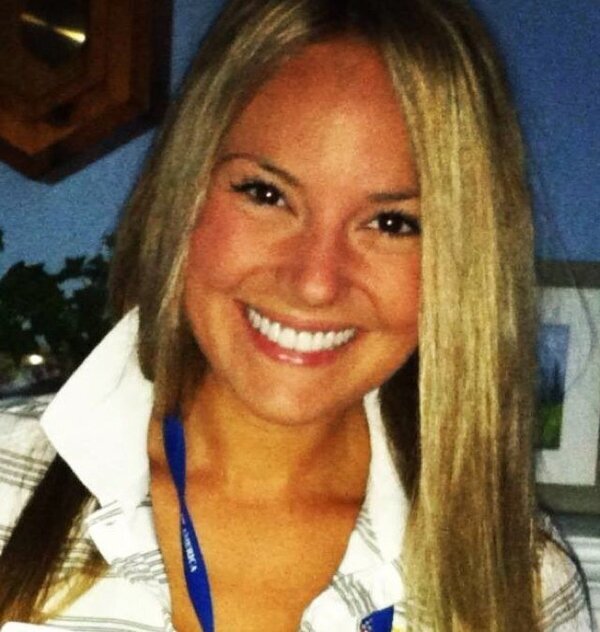 PGA of America staffer Erica Stoll who, on September 30, 2012, saved future boyfriend Rory McIlroy from an embarrassing missed tee-time at the Ryder Cup outside Chicago.
In October of 2012, Laura Butler of the Irish newspaper the
Independent
first reported
the identity of the PGA of America staffer who alerted Rory McIlroy that he was in danger of missing his Sunday singles tee-time. After Erica Stoll raised the alarm, a local law enforcement officer retrieved McIlroy from his hotel room and delivered him to the first tee with just minutes to spare.
Now, the
Belfast Telegraph
reports
that McIlroy and Stoll are dating — and have been for nearly three months. The newspaper says that the couple spent New Year's at
Ashford Castle
, a luxury hotel in western Ireland.
McIlroy sort of confirmed it with a rather broad hint on Instagram:
McIlroy was previously linked to three other women since he called off his engagement to professional tennis player Caroline Wozniacki early in 2014. Presumably, Stoll's knowledge of golf has made her attractive to the world's undisputed number-one golfer.
And perhaps not surprisingly, Stoll has not posted anything on her Twitter account since October 3 — precisely three months ago.
Read an interesting golf article? Tell us about it!
Image via Twitter

mustang6560 says:
I'm glad to see Rors is back in the game. I hope he comes out firing on all cylinders in 2015 as I would like to see him win the Masters and US Open to complete the Tiger slam.
1/6/15

bkuehn1952 says:
If Rory McIlroy wins the Masters, will that make him the youngest male player to reach the lifetime professional slam? No, I think Tiger had not turned 25 yet when he did it.
I guess I won't worry about it until Rory wins the Masters. At that point someone will dredge up that piece of trivia.
1/6/15

mustang6560 says:
Tiger completed the career slam at the 2000 Open. He was 25 years 7 months. If Rory wins the Masters in April, he'll be 25 years 11 months.
1/6/15
akkipanwar says:
Hello friends if you are not views our clip board history and no more information are available
clipboard history in windows 10
this is the fantastic and useful post.
10/11/18