D.J. and Paulina welcome baby boy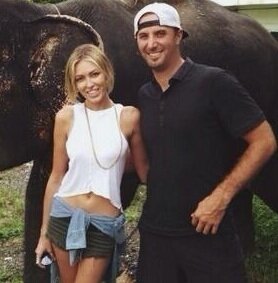 PGA Tour player Dustin Johnson and his fiancée Paulina Gretzky became parents of a baby boy on Monday. The only other details released by Johnson's agent, David Winkle, were that the mother and child were both healthy and resting comfortably.
The name of the baby has not yet been announced. But we already know that he has a "Great" grandfather.
Johnson has not played on the PGA Tour since July, when he announced that he was taking time away from competitive golf to work on "personal issues." Less than 24 hours after Johnson announced his temporary departure,
Golf Magazine
reported that
Johnson had been suspended
for cocaine use — and that it was not his first suspension.
To his credit, Johnson seems to have cleaned up his lifestyle considerably.
Golf Magazine
's Pete Thamel wrote
a detailed profile
on the new-and-improved D.J. that was published earlier this week. Among the things Johnson has learned since being off the tour is this:
"Over these past four or five months I've really grown up," he said, according to the report, "and I am starting to become the person I want my kids to look up to."
Indeed, numerous reports are that Johnson has cleaned up his lifestyle and improved his physical condition. In workouts over the last six months, Johnson has replaced 20 pounds of fat with 13 pounds of muscle.
How his is golf game, you might ask? His father-in-law, hockey legend Wayne Gretzky, reports that D.J. shot 61-63-61 over three days at Sherwood Country Club. The 61s are a course record.
While nobody on Earth knows if 2015 will be Dustin Johnson's breakout year in professional golf, the 30-year-old appears to have put himself into the right situation to get the job done.
Have you seen an interesting golf story? Tell us about it!
Image via Twitter
nagar28496 says:
This is right time for you,played run 3 online game,and share with friends and others groups,so i think you like this portal
run 2
this portal provide best free game, run is a 3D game,like that taken,mortal kombat,street fighter and king of fighter.
10/30/17
SamBraxton says:
It is good to know that a relation bore fruit. The post is very well written and has all the
qualities of good writing
. I wish both of them a wonderful life with their child.
12/20/17