LPGA visits a tribute course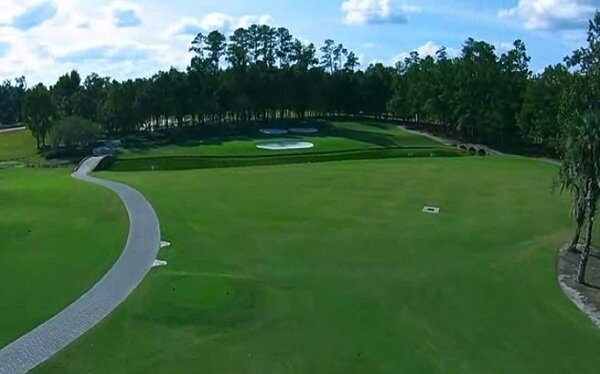 Golden Ocala's 11th hole is a tribute to the 12th at Augusta National
You have probably read about golf courses that have replica holes that mimic famous golf holes around the world. But this week, for the women of the LPGA, they aren't replicas.
This time, it's real
.
The 2015 LPGA season opens in Ocala, Florida at the
Coates Golf Championship
, which will be played at
Golden Ocala Golf & Equestrian Club
. The course was designed by the American architect Ron Garl and sports eight replicas (or, as Garl prefers to think of them, "re-creations") of famous holes around the world.
Hole 4: The "Postage Stamp" par-3 8th at Royal Troon.


Hole 5: The par-5 9th at Muirfield


Hole 6: The par-3 16th at Augusta National


Hole 11: The famous par-3 12th at Augusta National


Hole 12: The par-5 13th at Augusta National


Hole 13: The Road Hole — the par-4 17th at Saint Andrews


Hole 14: The first hole at Saint Andrews


Hole 15: The par-3 4th hole at Baltusrol (Lower).
Sadly, Golden Ocala is a very private country club, so the only way for any of us to actually play the course is to know a club member — and then get invited.
This week's tournament should be an interesting one for World Golf Hall of Fame member Karrie Webb; she won her first tournament as a professional at Golden Ocala 20 years ago, while playing on the aptly-named Futures Tour. At that time, Webb had never played any of the actual holes that were
replicated
re-created at Ocala. On Monday, she talked about her return this week with Golf Channel's
Randall Mell
:
"It's pretty cool now to think the only course I haven't played is Royal Troon," Webb said of the replica holes. "It's good to come back, and now having played those courses to play the replica holes again and see how close they are to the real deal."
Since this is the week of the NFL's Super Bowl, the LPGA wisely decided to schedule this tournament to play Wednesday through Saturday. This appears to be a smart move by Commissioner Michael Whan. And if it proves to be a success, we wonder whether or not Whan may try this in the future when the LPGA has a tournament the same week as one of the four men's professional majors.
Have you seen an interesting golf story? Tell us about it!
Image via Golden Ocala Golf & Equestrian Club
[ comments ]

bkuehn1952 says:
I have never played a "tribute" golf course. Closest I have come is the 17th hole at Eagle Eye Golf Course near Lansing, MI. They have a replica to the 17th at TPC Sawgrass. I have never played Sawgrass so I can't really state how close they have come. It sure looks like the same green, plays up to 145 yards, is an island, has the little pot bunker, railroad ties, large slope from back to front, etc...
Anyone one have a "tribute" experience where they have played the original and the replica? How close do you think it was?
The one issue I can see is that even if it looks exactly the same, you really are not playing the 12th at Augusta or the Road Hole at St. Andrews. No extra adrenalin, etc...
1/28/15
ahmedraza1001 says:
Interestingly you write, I will address you'll find exciting and interesting things on similar topics.
international conference call india
10/5/18
ahmedraza1001 says:
I invite you to the page where see how much we have in common.
Aziende casette in legno a bari
10/16/18
ahmedraza1001 says:
I like to recommend exclusively fine plus efficient information and facts, hence notice it:
best tree cutting service near me
1/12/19
ahmedraza1001 says:
I use only high quality materials - you can see them at:
mail order marijuana services
1/15/19
ahmedraza1001 says:
Here you will learn what is important, it gives you a link to an interesting web page:
cirujano plastico en barranquilla
2/14/19
ahmedraza1001 says:
I would like to thank you for the efforts you have made in writing this article. I am hoping the same best work from you in the future as well. In fact your creative writing abilities has inspired me to start my own Blog Engine blog now. Really the blogging is spreading its wings rapidly. Your write up is a fine example of it.
achat clenbuterol
2/26/19
ahmedraza1001 says:
I wrote about a similar issue, I give you the link to my site.
Binance Coin Chat
3/16/19
ahmedraza1001 says:
The matter you we highlighted above is surely value able for anyone to workout. the concept of your article is very true and It will result in a positive way.
dubai maid service
10 hours ago
[ post comment ]