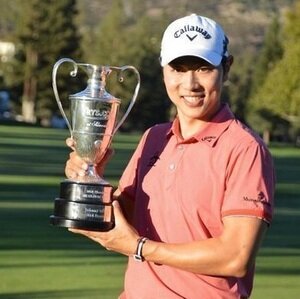 On January 6,
we told you
about 28-year-old PGA Tour player Sang-Moon Bae of Daegu, South Korea. Bae had filed a request with the South Korean government to extend his overseas travel permit, but it was rejected by the country's Military Manpower Administration (MMA).
Now, Bae has been charged with
violating South Korean military service regulations
by failing to return to his native country. This latest development was
reported by Yonhap
, the largest news agency in South Korea.
Yonhap explains that the MMA has the authority to cancel overseas travel permits and impose military duties on South Korean nationals who have been in South Korea for a total of at least six months, or who have been in South Korea for three consecutive months within the past year.
As we reported last month, Bae might be forced to suspend his career in professional golf and forego competing for South Korea in the 2016 Olympics in Rio de Janiero. And we also noted that Bae gained United States residency in 2012 and holds a green card, for tax and financial record-keeping reasons.
Of course, if Bae decides to file for American citizenship, he would cost himself the chance to play in the 2016 Summer Olympics anyway — and he might never again want to set foot in his native homeland.
Read an interesting golf article? Tell us about it!
Image via Twitter
no comments posted yet.