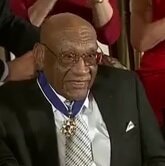 Charlie Sifford, the sweet-swinging, soft-spoken gentleman who forced the PGA of America to desegregate golf back in 1961, passed away on Tuesday at age 92. The passing was confirmed to WEWS-TV in Cleveland, Ohio by his granddaughter.
In November, Sifford was
awarded the Presidential Medal of Freedom
— the high honor that can be awarded to a United States civilian. In retrospect, the timing was important, because this past Friday, January 27, Sifford was reported to have suffered a stroke and was battling a bacterial infection.
Sifford attempted to qualify for a PGA Tour event in 1952, but suffered racial abuse and threats at that year's Phoenix Open. He perservered through an appalling and disgraceful period of rejection, abuse, and other injustice. In 1961, the PGA of America's leadership finally relented and allowed Sifford to join the tour.
Once he had smashed through the old color barrier, Sifford won the 1967 Greater Hartford Open and the 1969 Los Angeles Open. He notched 12 other victories, including five consecutive UGA National Negro Opens, the 1957 Long Beach Open (co-sponsored by the PGA of America at that time) and, at age 53, the 1975 PGA Seniors Championship. Five years later, Sifford finished 4th at the inaugural United States Senior Open.
Sifford broke another "color barrier" of sorts in 2004, when he became the first United States citizen who didn't happen to be white to be inducted into the World Golf Hall of Fame. He also received an honorary degree from the University of St Andrews in 2006, then in 2007 the Golf Course Superintendents Association of America gave Sifford
their
highest honor, the Old Tom Morris Award.
Unfortunately, the PGA of America still has not yet inducted Sifford into their
PGA Golf Professional Hall of Fame
, even though Mr. Sifford did plenty during his retirement to introduce children to the game we all love.
Charles L. Sifford was born on June 2, 1922 in Charlotte, North Carolina and had lived in Shaker Heights, Ohio in his final years. He was preceded in death by his wife, Rose.
Yes it was, Mr. Sifford. Yes it was. We once again offer a big tip of the hat to you, sir — and we certainly will never forget you.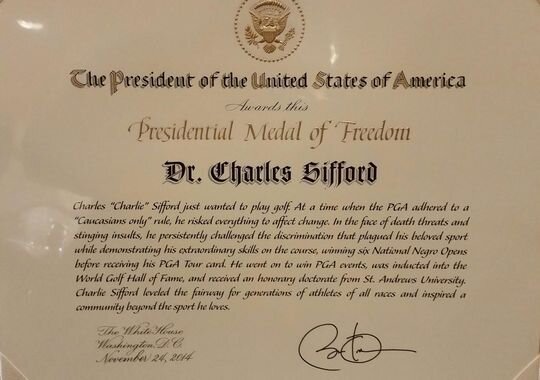 Read an interesting golf article? Tell us about it!
Image courtesy of the Sifford family
no comments posted yet.