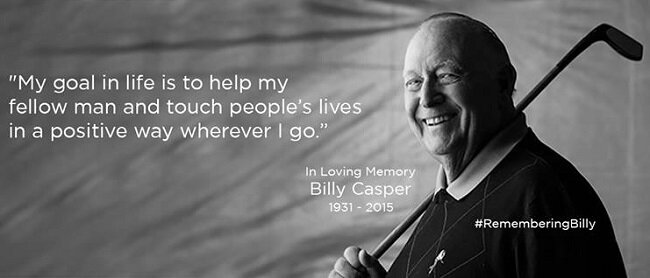 Billy Casper, the three-time major champion and prolific winner on the PGA Tour during the 1950s and 1960s, passed away on Saturday in Springville, Utah at 83 years of age. He had recently been afflicted with several health problems.
Casper won the 1959 U.S. Open Championship at
Winged Foot
, finishing at +2 282. Incidentally, the 1959 U.S. Open also featured the first appearance of Charlie Sifford, who just
passed away on Tuesday
.
After 22 more victories, Casper then famously won the 1966 U.S. Open at
Olympic
in San Francisco. During the final round, "Buffalo Bill" roared back from seven strokes down over the final nine holes to tie Arnold Palmer at -2 278. During the 18-hole playoff on Monday, June 20, 1966, Palmer shot 40 on the closing nine to lose to Casper, -1 69 to +3 73.
Almost four years and 14 victories later, Casper won the 1970 Masters Tournament, again in a playoff — this time, over Gene Littler. That proved to be the final Master Tournament decided in an 18-hole playoff;
Augusta National Golf Club
changed the playoff format to sudden death in 1976.
In the 16 PGA Tour seasons between 1956 and 1971, Casper won at least one tournament each season.
Casper remains the winningest United States golfer in Ryder Cup competition, with 23.5 points from a 20-10-7 record from 1961 to 1975. This, of course, was prior to the formation of Team Europe. Casper captained the winning American team in the 1979 matches.
He was inducted into what is now the World Golf Hall of Fame back in 1978. Over the last decade, Billy Casper Golf, a course operations and management firm, has grown to operate 140 different courses around the United States.
It was at Augusta National last April that Casper passed out in an off-course episode. Casper had been dealing with lung, circulatory, and cardiac issues.
William Earl Casper, Jr. was born June 24, 1931 in San Diego, California. He and his wife Shirley were married in 1952; the marriage produced five children, while the Caspers adopted another six.
Many people within the game have offered these gracious remembrances:
Have you read an interesting golf story? Tell us about it!
Image via Facebook
no comments posted yet.