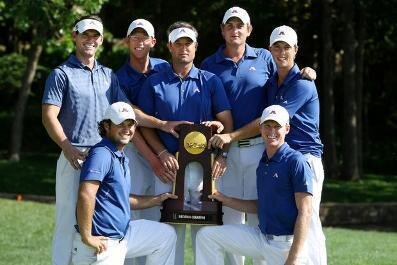 Patrick Reed (front row, left) was a member of the 2011 NCAA Division 1 men's golf
championship team at Augusta State University. The school's name changed
to Georgia Regents University Augusta on October 25, 2012.
The Patrick Reed story keeps getting uglier. On February 2,
we passed along
details of a forthcoming book by writer Shane Ryan that paints a rather dark picture of Patrick Reed's behavior when he was first a student-athlete at the University of Georgia, then at Augusta State University after Reed was expelled from UGA.
Earlier this week
,
we passed along an interview
of Reed by Golf Channel's Todd Lewis in which Reed said he was planning on asking for a retraction by author Shane Ryan and demanded that he "print the right facts."
Also during the interview with Lewis, Reed said he has affidavits from both of his college golf coaches (University of Georgia head coach Chris Haack and Augusta State University head coach Josh Gregory) saying that Ryan's stories are false.
The problem for Reed is that on Tuesday, the intrepid golf writer and reporter Stephanie Wei explained that
that the "affidavits" are not affidavits at all
, because the document was not officially sworn under oath and notarized: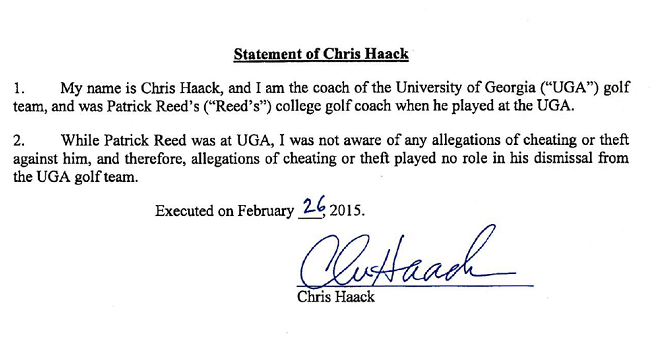 The first problem for Reed is that Haack's statement said nothing of what Lewis reported that it says. The next problem for Reed is that Stephanie Wei did a very creditable job parsing out the issues with Haack's statement:
First of all, Haack said Reed wasn't kicked out for cheating — which is true. However, as much as Reed wants to give the impression that this news is some sort of victory for him, the truth is that Ryan never made that claim in his piece. In actuality, it's a known fact that everyone agrees on, but Reed and his attorneys are attempting to present it as a revelation.

The second point from Haack's "affidavit" is even trickier: "While Patrick Reed was at UGA, I was not aware of any allegations of cheating or theft against him."

That's because it came to his attention after Reed had transferred, which Haack confirmed. It seems as though Reed's lawyers are attempting to play a game of semantics, and hoping that the public will misconstrue Haack learning later as Haack never learning at all—which is not the case.
On Thursday
, Wei
reported
on her conversation with one of Reed's former teammates at Augusta State. The teammate wishes to remain unidentified, but Wei said she verified the player's identity. Wei then broke out the details into eight sections, reproduced below:
When the Augusta State team found out that Gregory was recruiting Reed in 2009, they had their hesitations, because they knew his reputation. Some team members were friends with the Georgia players, from childhood and junior golf, so the stories about Reed's time at Georgia had made their way to ASU. But they decided to welcome him with open arms when he arrived for the 2009-10 season, hoping he'd prove them wrong if given a second chance.


Before the team's first tournament, during a qualifying round at the Forest Hills Golf Club in Augusta, Reed was playing with a teammate. It was normal for the players not to use score cards, and to relay their scores to Josh Gregory, the coach, when the round had finished. Reed texted his score, and the teammate noticed that it was the wrong score—one shot lower than Reed had actually shot. He said nothing at the time, but told his teammates. The teammates took no action at that point.


In the very next qualifying round, either the next day or two days later, Reed was playing at Goshen Plantation, this time with Mitch Krywulcyz, Taylor Floyd, and Brendan Gillins. Krywulcyz was responsible for relaying their scores to Gregory, and once again, Reed told him a score that the team believed to be incorrect. After the round, the teammates discussed the score and confirmed what they believed, that Reed's announced score had been lower than the actual score. Krywulcyz called Reed, who backed up the score he had given Krywulcyz. At that point, the players agreed that something strange was happening—given Reed's reputation, two false scores in a row raised suspicions.


At that point, the team went to Gregory, and they held a meeting with Reed. Sitting at a long table with Gregory at one end and Reed at the other, the group went over both of his practice rounds hole-by-hole, and found that Reed's stated score had been incorrect on both occasions. Reed reacted defensively, and when the teammates advised him to admit that he'd been shaving scores on purpose—since they'd respect him more if he was honest—he refused, and became angry. He was especially aggressive with the teammate from the first round, who was described as "easily the nicest guy on the team." It was at this point that the team lost respect for Reed. He continued to insist he had simply added incorrectly, but after "mistakenly" shaving strokes for two rounds in a row, he never erred again in his two years at Augusta State.


Shortly after, Gregory and the team met without Reed. Gregory explained what would happen if they decided to kick Reed out—this would be the second controversial ending for him at a school, and would likely have ended his college career, since no team would be willing to pick him up after that. Gregory seemed to feel sorry for Patrick. At that point, the team held a vote, and they chose unanimously to kick Reed off the team. Gregory accepted their decision, and seemed to respect it.


After that vote, Gregory sought advice from at least two friends. Bill Reed, Patrick's father, also came by during this time to speak with Gregory. The coach held another team meeting shortly after, and told the players that Reed would not be kicked off the team, but would be suspended for the first two events for what he'd done. However, he would play in the third event, even though he hadn't qualified. The players were angry at Gregory for going back on his word, and for not respecting their vote. Also, they were upset that Reed would play in the third event despite the fact that the qualifying event hadn't even been held yet.


The players briefly considered not playing if Patrick remained on the team. In the end, individual meetings were set up in Gregory's office where Patrick apologized to each player on the team, and asked them each if they would take him back. He still did not admit to shaving strokes on purpose, and only apologized for his "behavior."


After that, the relationships were strained. His teammates did their best to get along with him, and Augusta State went on to win two national titles, in which Reed posted a perfect 6-0 match play record.
While Reed has proven to be successful as a professional and no score-shaving has been reported on the PGA Tour, Reed's reputation precedes him. Our original report on the story on February 2 included this quote by author Shane Ryan:
Even now, on Tour, a source told me that there's a private joke among certain players when Reed enters a locker room: "Hide your things," they tell each other. "Patrick's here."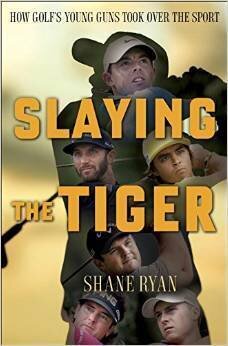 This writer is not a legal expert, nor even a former law student. But it is becoming increasingly clear that if PGA Tour players are anonymously expressing skepticism over Reed's seeming lack of trustworthiness, they might be doing so for increasingly verifiable reasons.
Indisputable fact: This story is
not
going away anytime soon. Shane Ryan's book,
Slaying The Tiger
, is due to be published on June 9 by Ballantine Books. Our opinion is that the exact contents of Ryan's version of the Patrick Reed story are certain not set in stone, given Stephanie Wei's detailed reportage this week. And Wei looks more and more like golf's version of the indefatigable news reporter Jennifer Griffin.
By all means, stay tuned. We certainly will.
Have you seen an interesting golf story? Tell us about it!
Images via Georgia Regents University, Stephanie Wei
jasonfish11 says:
I'm amazed the bullet points weren't numbered as such:
1.
2.
3.
4.
5.
6.
7.
7.
3/13/15

Torleif Sorenson says:
Jason, perhaps Reed was using "Common Core" math before it became a fad.
3/13/15

DougE56 says:
I don't particularly like the guy, but he has a great game. No doubt about it. Yesterday's finish at the Valspar highlighted it yet again. He is a tough competitor win or lose. It would certainly be too bad if his personal reputation and attitude ends up keeping his magnificent capabilities off the Tour. If nothing else, he needs to face this head on with the media and somehow illustrate that he is truly sorry for his questionable behavior and mathematical shortcomings in the past. He was a young kid who made some mistakes. It's time to take responsibility and show the world you are a better person and have learned your lesson. And losing that "I'm better than anyone" attitude will help too.
3/16/15

bkuehn1952 says:
It comes down to a very talented jerk who pissed off his teammates. He became an easy target for innuendo and accusations because he was unliked by everyone.
Along comes Shane Ryan. He has heard all the stories and Patrick Reed fits nicely into his book as "The Villain." I have little doubt that Mr. Ryan did not tell Patrick Reed prior to his interview that he was cast as "The Villain."
Any hope of Patrick Reed avoiding becoming a pariah will largely depend on his acknowledging where there is truth (e.g. his suspension for miscounting strokes), disclaiming falsehoods and changing his attitude. At this point stonewalling and litigation will only make things worse.
3/16/15