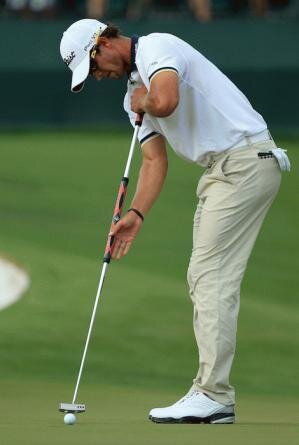 One week from now, Adam Scott will return to Augusta National Golf Club, site of his 2013 Masters victory, wielding a long putter.
The report
comes from the Australian Associated Press, to which Scott confirmed via e-mail. Scott used a conventional during his first three PGA Tour events this year, at the WGC-Cadillac (T-4), the Valspar (MC) and the Arnold Palmer Invitational (T-35). After the API, Scott was quoted by PGATour.com about his ongoing struggle:
"Putting with a longer putter is maybe the smarter thing to do (at Augusta). It's all about the lag putting. It's such a difference in weight of club and stroke and everything. I'm just trying to figure it all out."
How good has the long putter been for Adam Scott? The last time he missed the cut at a major was at the 2011 U.S. Open. And including the 2011 Masters, Scott has eight top-ten finishes at the majors, including a close solo-second at the 2012 Open Championship. During that time, he has finished out of the top-15 only once — at the 2011 Open Championship.
Scott is currently ranked 6th in the
Official World Golf Ranking
.
Clearly, 2015 is the last hurrah for Scott and his broomstick; anchored putting will be banned on professional tours worldwide beginning January 1, 2016.
The big question is this: Can Scott adjust to a conventional putter and win with it?
Have you seen an interesting golf story? Tell us about it!
Image via Twitter
Hat-tip: Ryan Lavner

bkuehn1952 says:
Of the handful of long putters still on tour, his putter seems to be the longest. He is fairly tall and stands pretty upright. I have to admit, I won't miss seeing those long putters although I think an exception should have been made for low level amateurs.
4/1/15
GBOGEY says:
My prediction, using strokes gained stats, is that good putters, i.e. Webb Simpson, will be good putters with a shorter putter. Bad putters, i.e. Kevin Stadler, are going to be really bad putters with the shorter putter. The question is what happens to guys in the middle like Adam Scott and Tim Clark who may have reputations as bad putters but who statistically speaking are average putters.
4/1/15
garmantis332 says:
The free site for the online free robux is
www.onlinefreerobux.com/
for the free roblox free robux game then use my link for free to get robux for free online.
10/29/18
mixsun says:
CFD broker
will help you to start trading cfds easily
8/20/20