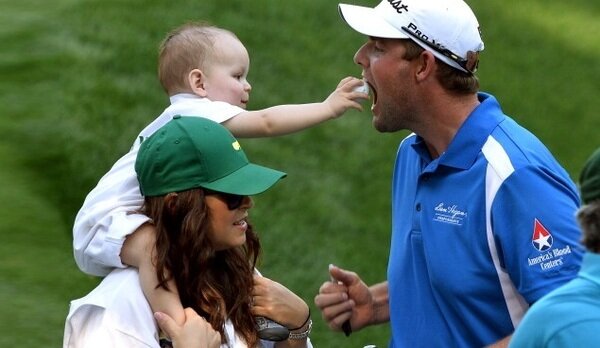 Audrey Leishman and her husband, PGA Tour player Marc Leishman, brought their son Harvey with them to the
2013 Masters Tournament. Leishman finished T-4 behind fellow Australian Adam Scott.
Audrey Leishman, wife of PGA Tour player Marc Leishman, has
reportedly emerged from an induced coma
at a hospital in Virginia Beach, Virginia.
She was
taken to hospital
last Tuesday, March 31 to be treated for pneumonia and gastroenteritis. In a statement, Marc Leishman described his wife's improved condition:
"My wife, Audrey, was admitted to the hospital with signs of gastroenteritis and pneumonia. Her condition has improved since arriving at the hospital and she is resting comfortably.

"We appreciate the outpouring of support and thank you for your well wishes. At this time, my family and I request privacy so we can focus on Audrey's care."
That focus is such that, understandably, Leishman might choose to withdraw from the 79th Masters, which will begin Thursday morning at Augusta National Golf Club. An unidentified spokesperson representing Leishman said the golfer is "100 per cent focused on Audrey" and has made no formal decision about playing in the Masters.
It would not be surprising in any way if Leishman stays in Virginia Beach with his wife and two sons.
But at least we have this good news about Audrey Leishman — and we will take that any time.
Have you seen an interesting golf story? Tell us about it!
Image via Twitter
no comments posted yet.