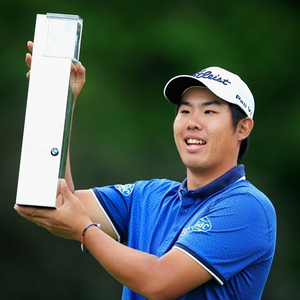 Byeong-Hun An continues to break records while improving his game. Born in Seoul, South Korea in 1991, An had already amazing golf audiences when he became the youngest-ever to win the U.S. Amateur Championship at age 17.
On Sunday, An became only the third golfer to
win the BMW PGA Championship
(the European Tour's flagship tournament, f.k.a. "British PGA Championship") in his first appearance (Scott Drummond in 2004, Bernard Gallacher in 1969). He also established a new tournament scoring record at 71-64-67-65 = 267 (-21). Well-known players Thongchai Jaidee and Miguel Ángel Jiménez tied for second place — six shots behind An. Not surprisingly, An is also the first Asian-born golfer to win the BMW PGA — and the second to win a European Tour event, following Isao Aoki's 1983 European Open victory at Sunningdale.
At the post-tournament presser, An understandably described the victory as "life-changing."
"It's like a fifth Major to me. It's the biggest title I have won and gets me into a lot of events. This is life-changing.

"I'm still really excited and over the moon right now. I wasn't expecting this. I didn't know that a win was this close. It came all of a sudden. I've been playing well all year, but I never thought I would win this event.

"I played really well today. I was nervous at the start of the day but confident on every hole because I was hitting it well and putting nicely. I made some mistakes but being bogey-free I think is very good out here.

"It was great to go into the last hole with a six-shot lead and I love that I'm the first Asian to win this event. It's great."
Indeed, a bunch of doors are now open to An by virtue of his victory. An is not only exempt into both the U.S. Open at Chambers Bay and the Open Championship at St. Andrews, but he also earned exempt status on the European Tour through the 2018 season.
But An is not the only record-breaker from this past weekend. The BMW PGA enjoyed its largest-ever total attendance, at 113,640. The galleries got to see five holes-in-one. Jimenez broke a Euro Tour record with this one on Saturday:
We're just grateful that Jiménez didn't twerk the gallery when repairing the ball-mark on the green.
Chris Wood scored a fancy BMW i8 by nailing the final ace of the week:
After such a big win, An is not sitting back and coasting; he is in this week's Irish Open — in no small part because of the venue:
We agree. Congrats again, young man.
Have you seen an interesting golf story? Tell us about it!
Image via Twitter, Byeong-Hun An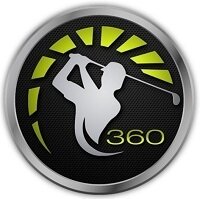 andrewwilliam says:
An due to his talent and hard work breaks the record in winning the BMW PGA. I really appreciate the hard work of him. We should share such
pimp my paper
to boost up the confidence of the others.
4/21/18
kevin67 says:
you can get free Amazon gift cards just for filling in surveys, taking pictures, or even searching the internet!
gift cards no survesys
5/5/18
kevin67 says:
Get the Most out of your Xbox gaming-experience using Xbox Live Gold. Xbox Live Gold is the entrance to the network that is many entertaining for your Xbox 360 and the Xbox One.
www.freelivecodes.net/
5/5/18
rajattroli0987 says:
That's Amazing... I will take coaching of it, but first I have to prepare for my
Bitsat 2018
exams.
7/27/18
themonkbasant says:
Congratulations to An! His achievements have inspired me to do well in my SAT exam as I look forward to getting admission in
Arizona State University
8/28/18
rosejacob says:
I am genuinely thankful to the holder of this web page who has shared this informative paragraph here.
Company formation in Dubai
1/24/19
MadelynLinnett says:
Amazon is the only solution to shop online. Amazon was founded by Jeff Bezos in 1994 and now you can shop everything anytime using
Amazon gift card
.
Sunday