Jeff Maggert
won the United States Senior Open on Sunday at
Del Paso Country Club
in heat-torched Sacramento, California. That is the first breath.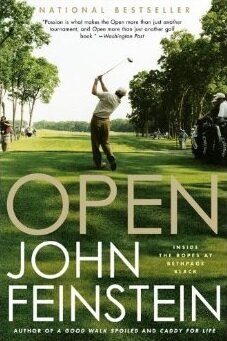 We at SkyGolf are reasonably sure that Maggert is pleased to have taken the trophy from USGA president
Tom O'Toole
and
not
from former USGA president
David Fay
. This is because the award-winning author John Feinstein, in his book
in his book Open
(at right), Feinstein tells of when Maggert was upset at Fay over course conditions during the second round of the 2002 U.S. Open at
Bethpage
Black. Maggert managed to avoid bogey that day, but after his round, he had some rather choice words for Mr. Fay. Feinstein takes it from there:
As he accepted the card, Maggert said to Reinhardt, "Oh and you can tell David Fay I said he's a f------ idiot." Reinhard wrote down the quote, leaving out the profanity, and said he would be sure to pass Maggert's regards to Fay. When he heard the comment, Fay shrugged. "Maybe he's mad because a couple of years go I told someone that I was concerned that, the way we were setting up our golf courses, we might end up not identifying the best players in the world but the Jeff Maggerts of the world."

Yes, that might have upset him just a little.
No kidding, Feinstein. Maggert finished in third place at both the 2002 U.S. Open and the 2004 U.S. Open at
Fast-forward to Sunday and the final round of the U.S. Senior Open. Maggert started the final 18 holes tied with Bernhard Langer for the lead, one shot ahead of defending champion Colin Montgomerie and seven other players. One of those was 65-year-old Tom Watson, who was trying to become the oldest winner of a senior major championship.
The final round ended up as a horse race; Maggert shot a Sunday 65 to Monty's 66, edging him by two strokes. New Zealander Grant Waite and the aforementioned Langer finished T-3, while Billy Andrade and Lee Janzen were another shot back, T-5.
Maggert has captured two of the five senior majors this year; last month he won the Tradition at
Shoal Creek
in Birmingham, Alabama. Intrestingly, Maggert, Montgomerie, and Langer combined have won the last eight senior majors.
After two thirds at the U.S. Open and two more third-place finishes at the 1995 and 1997 PGA Championships, Maggert is understandably elated:
"It's satisfying just because the guys out here on the Champions Tour are the same guys that I was trying to beat 20 years ago.

"I had a lot of good runs in the U.S. Open over the years and probably lacked a little maturity to pull it off. But certainly, now that I'm an old guy, I've learned a lot and was able to just steady myself and play well."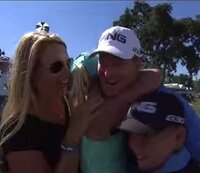 Maggert is also undeniably happy that his wife Michelle and twin 10-year-olds, Madeline and Jake, flew from South Caroline early Sunday morning to be there. None of the three had been present at any of Maggert's three other Champions Tour wins.
And now, the 51-year-old Maggert has a $675,000 winner's check, some nice hardware and, to top it off, he is now exempt into the 2016 U.S. Open Championship at the fiendishly difficult
Oakmont
.
Have you seen an interesting golf story? Tell us about it!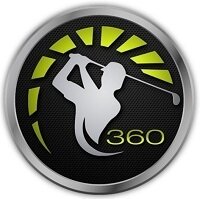 bkuehn1952 says:
Jeff Maggert? It is becoming apparent how I lost interest in watching senior golf.
6/29/15
music23 says:
As to
access recycle bin windows 10
you have to go to the desktop here is the short way to reach recycle bin.
2/10/18
shravi12 says:
I like to play sudoku online game. It is really very nice game and I really like to
play free sudoku
on internet free of cost.
4/10/18
roblox3183 says:
hey guys i love to play
roblox robux
online adventures game because its having lots of adventures if you want this game please check my link to get this game for free
4/12/18
derick1 says:
Interested in Male Extra? Learn more about its benefits, side effects and find out what people think about it by reading our Male Extra review!
male extra review
6/19/18