Odyssey - Versa #1 Wide White
---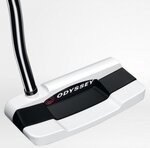 Versa #1 Wide White
-
Odyssey
Introduced in January of 2013, this perimeter-weighted blade features high-contrast black-white-black lines to highlight the face-angle throughout the stroke, with the black portion in a wider flange. Odyssey's "White Hot" face insert is also included, in black for this model.
HEAD WEIGHT: 343 g
OFFSET: Full-shaft
HOSEL TYPE: Double-bend
LENGTHS: 33", 34", 35"
HAND: RH only
LIE: 70°
LOFT: 3°

Add To My Bag





The Chilli Dippers
- 1/17/17





mgabrysch
- 6/12/16





merlinpqp
- 1/29/14





CALLAWAY4LIFE
- 5/28/13





golfdude528
- 4/8/13
Number of Users: 6
Average Handicap: 12.1
Overall:





Value:





Look:





Performance: